Pagaia Remo SUP 100% Carbon Peak F-One
The SUP 100% Carbon Peak F-One paddles are designed for specifically for  surfing.
Their round but slender outline makes them very easy to handle and only requires low stroke power. They are well suited to medium and high paddling frequency, which is ideal for take-off.
The 100% Carbon Peak f-one have an optimized amount of spoon and angle in the blade to achieve a paddle which is super easy to get in and out of the water in any circumstances.
Some new blade shapes have been introduced in the CARBON HYBRID & FULL CARBON ranges. They feature a V DOUBLE CONCAVE section shape which enhances significantly the lateral stability while the blade is in the water. Benefitting from a better support, the stroke is easier and fatigue is reduced. The shaft of the PEAK paddles is designed for the best compromise of flex, hand grip and ease of paddling.
Easy to use, the PEAK paddles are available in different constructions. They are therefore well suited to all-around practice but will also satisfy the best surfers with the feather weight achieved using the 100% carbon constructions.
PEAK outline
The outline is long, and a narrow blade allows for an easier "catch" and an easier water exit for a gradual power rise.
By measuring the immersed blade area, you would yield a level of effort. Facing the wind, the return phase is also facilitated. It will be used for surfing and for its acceleration.
Non-skid finish
This consists in a "soft touch" varnish that makes the paddle non slippery when wet.
This allows the rider to focus on paddling instead of wasting energy in an effort to stop the paddle from slipping. The grip is especially strong when the paddle is wet.
The V DOUBLE CONCAVE offers a stronger V shape which is emphasized by the lateral concaves. This shape brings even more stability to the paddle without increasing the volume of the blade.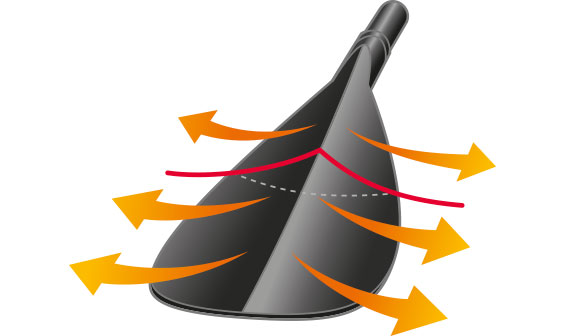 Pagaia Remo SUP 100% Carbon Peak F-One